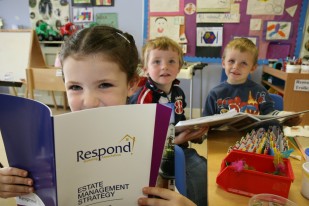 Respond has always been committed to the delivery of child and family resources on our estates. Many Respond estates provide services for children and families in our community buildings including:
Childcare
Youth Services
Training Programmes
Social Events
Day Care
Parent and Toddler Groups
Homework Clubs
In childcare centres throughout Ireland, Respond provides childcare services to almost 1,000 children. These services range from full day childcare to morning, afternoon, pre-school and after school services and are available to Respond residents and members of the wider community. Respond has almost 200 staff members nationwide who manage and provide these services. If you would like information on childcare services in your community, please contact your local resident support worker or visit your local Community Building.
Respond Housing Association provides childcare services in the following estates:
Child Protection
Respond (Support) is committed to promoting the highest standards of child protection in line with "Children First: National Guidance for the Protection and Welfare of Children" (2011). To achieve this we have developed our child protection policy "Making our Communities Safe for Children".  This policy is being implemented within the organisation and being promoted on all of our family estates.
Our Child Protection Policy aims to:
Promote the protection of children and young people within the organisation and on our estates
Develop greater awareness of child welfare issues amongst our staff, volunteers and residents
Provide clear guidelines for staff and volunteers on behaviour that protects children, staff and volunteers
Our Child Protection Policy sets out:
What might be a child protection or welfare concern?
Steps to be followed by staff if they become aware of a child welfare concern
Respond Housing Association internal child protection responsibilities and structures
Good practice guidelines for working with children and young people
Contact details for local HSE Children and Family Services
Other useful resource materials
Copies of the policy are available in each of our Community Buildings or are available from our Resident Support Workers. If you would like to read an information leaflet on our Child Protection Policy please click here. List of Respond Designated Liaison Person (DLP) for each region here. To download a copy of the full report here, alternatively you can email info@respond.ie to receive a copy of the policy.