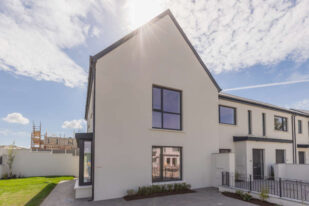 Respond is delighted to offer new Cost Rental homes at Ballinglanna, Glanmire, Cork City.
The 32 new homes are located south east of Glanmire village with convenient access to a range of local services, schools and amenities. The scheme comprises of eight 3 bedroom houses, eight 2 bedroom houses, eight 2 bedroom duplex apartments, and eight 1 bedroom apartments.
Cost rental is not for profit housing where the rent you pay covers the cost of the construction, management and maintenance of your new home. Cost rental offers a long term, secure tenancy that is more affordable than market rents. Under the Government's Cost Rental Scheme, rents must be a minimum 25% below open market value, with prices for Ballinglanna homes starting at €840 per month. This development will enable more middle-income households in Cork to access high-quality, secure rental homes close to their work and community.
1 bedroom apartments – €840 per calendar month
2 bedroom duplex apartments – €945 per calendar month
2 bedroom houses – €1,015 per calendar month
3 bedroom house – €1,085 per calendar month
For information on eligibility and how to apply for a cost rental property, please see our cost rental page: www.respond.ie/cost-rental