Pictured at the Event: Sinead Cronin, Simon, and Philip Dillon, Respond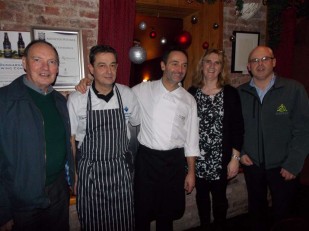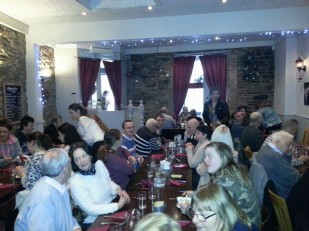 On the 17th of December L'Atmosphere a beautiful French Restaurant, which is situate at 19 Henrietta Street, Waterford, played host to a very special Christmas dinner.
In partnership with Eishtec, Simon SE, and Respond over 60 residents were treated to a festive menu.  The beautiful French food consisted of homemade vegetable soup with French bread, traditional stuffed turkey and ham with  L'Atmosphere sautéed potatoes and selection of vegetables, mainly organic produce and bought from local farmers, followed by Christmas pudding and ice cream.
A perfect piece of France on a wet afternoon in Waterford City went down a treat with our Respond residents.  It was a very special meal giving a rare opportunity for residents to mingle, relax and engage with the people they met on the afternoon.  Staff from the organisations rolled up their sleeves on the day to help serve the food the efforts were acknowledged and appreciated by the staff in the restaurant.
Our appreciation to L'Atmosphere for their generosity in hosting this event.
Posted: February 2015