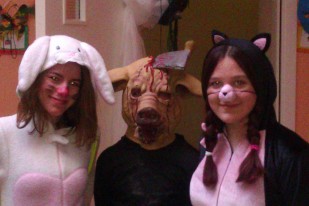 An excellent Halloween party took place on 31st October 2013 in Marquis Drive Community building.  Children turned out in all the latest fancy dress from Freddie Crougar, Where's Wally, Princess's, Puppies, Ghosts and Gremlins.  A fantastic effort was made on the part of parents and over 30 children for local community. Children enjoyed games with coconuts, got wet while ducking for apples and nuts, then got messy with flour and grapes and donuts.  Prizes were given out for costumes and participation.
The event was organised through the Respond led youth club which runs every Thursday evening in the community building at Marquis Drive.  This club is supported by Volunteers who travel from the wider community to support the club.  Caroline Haran Resident Support Worker is in attendance weekly. Children who attend the club are building in confidence and enjoying the activities.  The commitment of the children to the club is fantastic with 13 children attending every single week.
A BIG THANK YOU TO ALL THE VOLUNTEERS FOR THEIR CONTINUED COMMITMENT TO THE CLUB.