Man UP is an inspiring, brave new campaign to change the face of domestic violence.
The staff of Respond Cuan Alainn women and children's refuge, Tallaght, were present to support the launch the second phase of Man UP Campaign which took place on  22nd October 2014 in Pearse Street Library.
This campaign invites men to stand up in the face of violence and highlights the positive role that men can play in ending domestic violence. It's about one simple but powerful thing – men showing pride and leadership, challenging abuse and violence and supporting women and children. It asks men to 'open doors' not in the conventional chivalry way but wherever the persons influence reaches:
A parent teaching their children violence towards women is wrong.
A community leader showing leadership and challenge domestic violence against women.
Individuals making the decision to use your influence to change policy and legislation to remove the lawlessness in the home.
This campaign is being promoted by Ryan Tuberty, Lynn Rosenthall and Christy Burke.
MAN UP is a SAFE Ireland campaign and is the first Irish campaign to follow the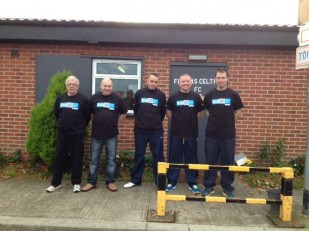 national public awareness guidelines, developed by SAFE Ireland and Rape Crisis Network Ireland (RCNI) and published by Cosc (the National Office for the Prevention of Domestic, Sexual and Gender Based Violence). The guidelines recommend shifting the focus of awareness-raising to perpetrator behaviour and bystander awareness while also providing information to survivors.
SAFE Ireland banner:
Respond has two services which provide assistance to women and children in an environment that is safe, welcoming, family centred and homely. Suaimhneas, women and children refuge is located in Moyross, Limerick and the Cuan Alainn women and children refuge is located in Tallaght, Dublin.
Respond women and children refuges offer families support, information and resources which respect individual needs and enable families to move progressively towards re-housing.  For more detailed information on each service please click here. Both services can be contacted at 051 840200.
Updated: November 2014