Respond is delighted to mark yet another successful year with our 500 strong net-work of volunteers nationally. National Volunteering week is a great opportunity for Respond to thank all our volunteers who do such tremendous work within their communities.
This year to celebrate National Volunteering week Respond Resident Support Workers distributed a small token of appreciation (chocolate) at local gatherings of volunteers.  The branded chocolate bar states 'Thank You' in a variety of languages celebrating the many different nationalities of residents living within our estates who volunteer their time on behalf of their community.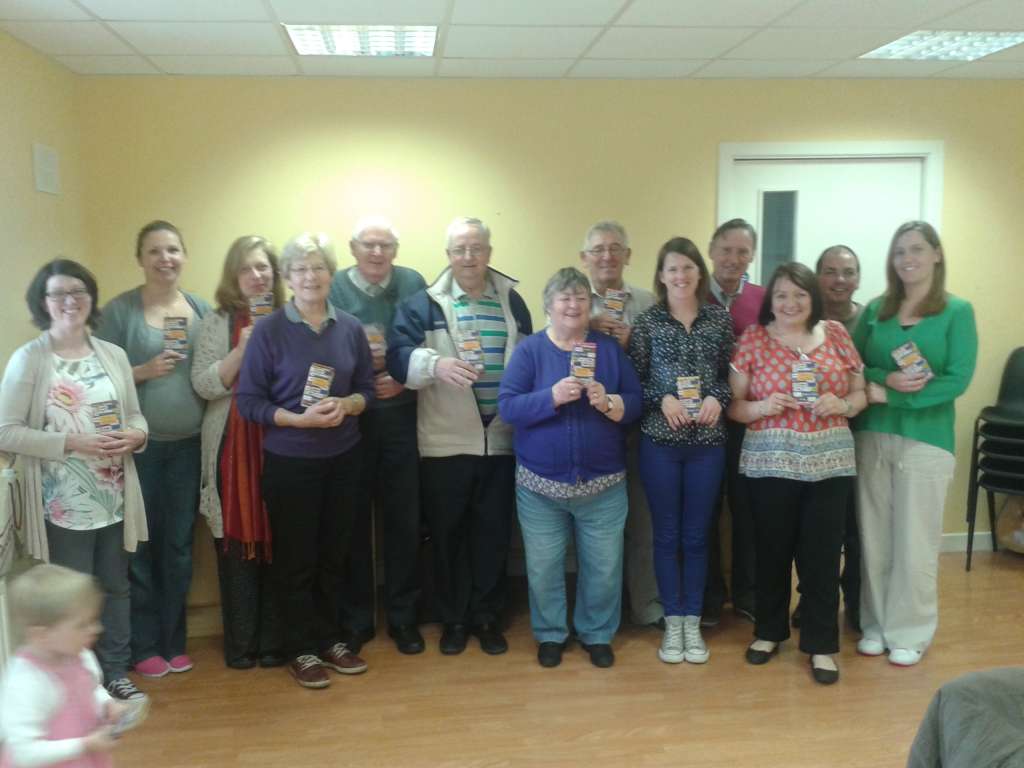 A 'Volunteer week' celebration was held in the Gort na nOir Community Building in Abbeyleix, Co Laois in gratitude for all the hard work volunteers have done over the past number of months.
Volunteers who attended represented many different groups from the Gort na nOir and An Garran estates, these groups consisted of Little Treasures Parent and Toddler Group who use the Gort na nOir community Building to meet every Wednesday morning, there was also volunteers from the Abbeyleix Active Retirement Group who also utilise the Gort na nOir Community Building often help maintain flower beds and planters in front of the Community Building.
Local residents from the Gort na nOir estate were also present and presented with the "Thank You" chocolate bar, this was is recognition for the work they carry out daily maintaining the green areas, flower beds and weed control along with managing grant applications and committee duties.
Little Monsterz, Parent and Toddler Group travelled from our An Garran estate in Mountrath to  join in the celebrations. Both groups commented it was a great way for volunteers from both Parenting groups to communicate, as you can see from the pictures the toddlers from both groups had a chance to develop their own communication skill set!!
Both parenting groups have decided to attend each other's group when they start back in September 2015 and see if there is different ideas they could share.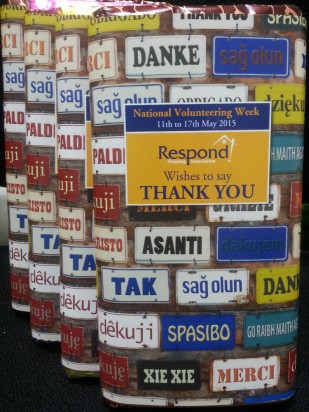 The 'thank you' token not only shows our appreciation but also celebrates the diversity of cultures represented within our estates.
National Volunteering Week highlights the multitude of ways that individuals and organisations can, and are already, involved in supporting causes, aiding charities and helping in their local communities.
According to Volunteer Ireland:
"National Volunteering Week is also an opportunity to shine a light on the inspiring work of volunteers and highlight the value and impact of volunteering to Irish society".
Respond is delighted and humbled to have such a dedicated cohort of people giving of their time free of charge for so many years.
If you are interested in finding our more information about Respond and the work we do please click here
National Volunteering week 2015 – Respond cannot find enough ways to say thank you
SPASIBO
GRACIAS
DANKE
TAK
MERCI
THANK  YOU
GO RAIBH MAITH AGAT
GRAZIE
dêkuji
dziękuję
PALDIES
ďakujem
sağ olun
EFHARISTO
köszönöm
XIE XIE
TACK
OBRIGADO
ASANTE