Twelve children aged 7-13, 3 resident parents and 2 volunteers enjoyed a fantastic day out in Ashbourne, Co. Meath at Tayto Park on 10th July.
The trip began at 8.15 am leaving Marquis Drive for the long journey ahead.  Children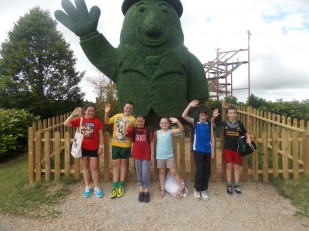 commented that they were so excited they were awake from 6 am.
We arrived at 11.30 am approximately and made our plans for the day. Plenty of challenges and obstacles for the children to explore and so much to see in the Park:
The Tayto factory tour, the farmyard, the big cats plains, which house the mountain lion, Amur leopard and tigers alongside many other animals such as emu and wallabies, Buffalo Ridge, feathered friends, Crispy Creek and of course Mr. Tayto's Critter Country. The Vortex Tunnel was a real head spinner for the kids and the mechanical bull was a big hit.
The Children also enjoyed the Geronimo Thrill Zone Amy, Conor and Becky were sprung into the air up to 5.5 metres on the exhilarating Tayto air jumpers and challenged themselves with back flips. All participants were also fantastic at scaling to great heights on the superhero training wall.
The volunteers Aideen and Sarah and some of the children experienced the thrill on the zip wire ride, yes!! There was screams as this is one of the longest and fastest 11 line zip lines in Ireland, great fun!!!
The giant chess board was a favourite attraction for the kids particularly for Becky and Jack who got soaked to the skin.  They screamed with laughter as they got squirted water at Caroline Haran RSW with the jets of water which were activated when stepped on.
Amy and Becky enjoyed mining for rare stones in the Crispy Creek Mining company, panning the sand through the flowing water to uncover treasure.
A fantastic day had by All.
Posted by Caroline Haran  – Respond Resident Support Worker