Respond launched its tenants complaints policy  Friday 30th August 2013 at a Personal Debt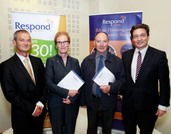 Seminar which took place in the National Library of Ireland. Speaking at the seminar was Noeline Blackwell of FLAC who spelt out the Impact of indebtedness on an adequate standard of living while Vincent P Martin from New Beginning explored the recent developments and positive changes in Irish Insolvency Law.
Noeline Blackwell, Director General from FLAC stated:
"Although the government has binding legal commitment to the people in our society as well as the economic commitments to complete the troika programme. The obligations to our society are as immediate and as important and must be firmly held in the forefront of government's mind. Those commitments include a commitment to an adequate standard of living. Over-indebtedness is a poison that tends to erode this right"
While Vincent P. Martin Co-Founder and Practicing Barrister from New Beginning believes that:
"The basis of this new insolvency system is the recognition that, in market economies, individuals go broke. There is no moral judgment here – it is just a fact of life. But individuals can now be allowed return to normal life, become economically viable again and play their role in contributing to the creation of new jobs. To do so, this will mean debt restructuring (otherwise known as debt write-down)
Respond in launching its Tenants Complaints Policy has called on the Government to develop a National Tenant Complaints Policy under the auspices of the Ombudsman office. Respond is actively seeking much needed investment finance to fund the delivery of social housing at a time where local authority housing waiting lists are at an all-time high. While Respond is supportive of Government policy,  new initiatives such as the Private Residents Tenancy Board and the Local Property Tax will cost Respond in excess of €400,000 per annum. These new costs will undermine the sectors ability to raise private investment finance to fund the delivery of much needed new social housing units. Respond Housing Association has consistently expressed its concern at the impact of these taxes on the financial viability of housing associations nationally.
Respond therefore calls on the Government in the run-up to Budget 2014 to review the effect that its policies are having or the sector and in particular their impact on the sectors ability to secure private investment finance.