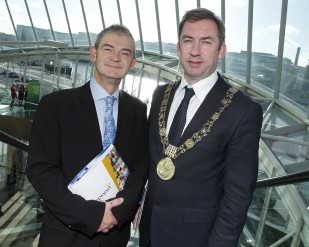 The much anticipated Respond conference entitled "The Best Way Forward-inclusive communities for older people"  took place at the Convention Centre in Dublin Wednesday 23rd October 2013. The conference had a very distinctive advocacy theme and many speakers discussed the very real concerns facing older people throughout the country. The conference also highlighted innovative ways of working with older people and focused on the importance of enabling  older people to live independently in their own homes for as long as possible.
The Lord Mayor of Dublin, Oisín Quinn officially launched the Respond National Strategy for Older People and in his speech, commended Respond for their anti-poverty work and their ongoing support of the most disadvantaged and socially isolated communities throughout the country.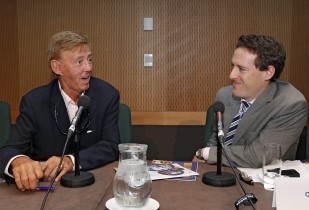 Carl O' Brien, Chief Reporter, The Irish Times chaired the conference and interviewed a very passionate and outspoken Dickie Rock,who noted:
"The vast majority of older people today can be classified as working class people who have worked all of their lives. The budget cuts will have a devastating effect on their quality of life at a time when they should be enjoying their retirement"
In his speech, Philip O' Reilly, National Co-ordinator of Services for Older People, Respond Housing remarked:
"It is vitally important that we enable and empower Older People to live independently in their own homes for as long as possible. Some older people often just need that extra bit of support and guidance to help them through everyday complexities. There is a huge unmet need for this kind of service, and a gap that is highlighted again and again"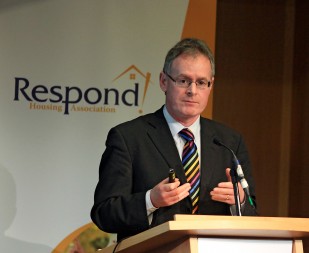 Eamon Timmins, Head of Advocacy and Communications, Age Action in his speech commented:
"Last week's budget highlights the need for more older people to become involved in advocacy, in order to make our politicians aware of the needs of older people, and especially the most vulnerable of older people.  The sickest, poorest and the most isolated of older people will be hit hardest by measures in Budget 2014"
Other notable highlights of the conference were the appearance of Bernadette McNally Director General of the Office of the Ombudsman, Imelda Byrne of ICA Bootcamp, Dr. Sara Burke of RTE Radio 1 Drivetime and Dr. Amanda Phelan from the National Centre for the Protection of Older People.
There were a wide range of information stands from various Statutory, Community and Voluntary Agencies working with Older People. Respond ran this conference in partnership with the Irish Centre for Social Gerontology in NUI Galway and the event was kindly sponsored by Bluebird Care.
Full programme of speakers available to download here
Please view video highlights of the day here
Conference presentations:
Philip O Reilly National Conference Presentation
Margharita Solon Presentation
Tomas Scharf Presentation
Aine Ni Leime Presentation
Amanda Phelan Presentation
Eamon Timmins Presentation
Bernadette Mc Nally Presentation
Sara Burke Presentation
This conference was kindly sponsored by Bluebird Care   http://bluebirdcare.ie/2013/09/19/bluebird-care-sponsor-respond-national-conference-older-people-strategy/