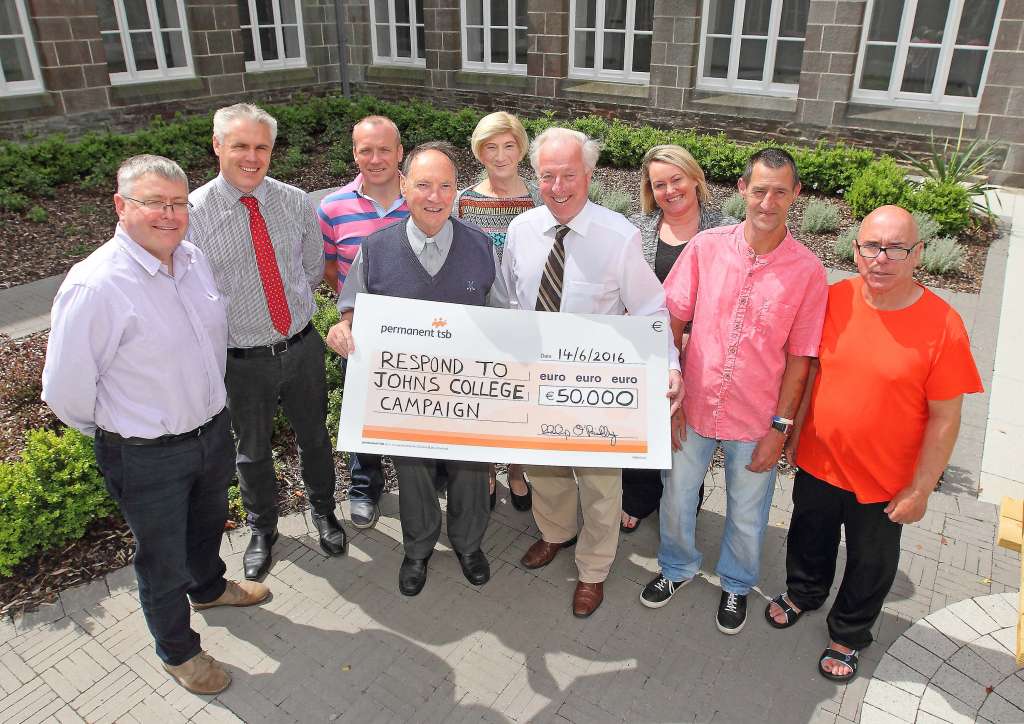 Local businessman and entrepreneur Noel Frisby was in Johns College in June to present a cheque for €50,000 to Father Patrick Cogan, Founding Director, RespondHousing to develop essential services for Older People and people with specific needs and requirements within the Johns College campus.
According to Philip O' Reilly, National Co-ordinator of Services for Older People with Respond Housing Association:
"Noel kindly agreed to help us with our fundraising efforts last year and became lead sponsor of our fundraising campaign. We are extremely grateful to Noel, Aidan Barrett, our Support Committee and all of the businesses in Waterford and the southeast region who donated or helped in any way with our campaign. The monies raised will be used to develop essential services including a sensory garden, community education hub and an activation centre. These services will enable and empower our tenants to live independently in their own homes for as long as possible".
Respond to John's College – Building the Future
On Friday 8th May 2015, Minister Paudie Coffey TD officially launched the 'Respond to John's College' support services plan at the Respond Head Office in Airmount, Waterford. The plan aims to deliver high quality homes and support services to cater for Older People in John's College and the wider Waterford community.
Full details of the launch can be found by clicking here
 _____________________________
NOEL FRISBY LEAD SPONSOR OF JOHNS COLLEGE FUNDRAISING CAMPAIGN
Local businessman Noel Frisby is the lead sponsor of the "Respond to Johns College" fundraising campaign. Respond has been able to gather together the €12million required for the capital construction costs. They now need help from the people of Waterford and business community with the fitting out costs for the proposed Day Centre, Sensory Garden, Community Education Centre and Activation Centre. Noel is the lead sponsor for Respond's campaign and is urging all local Waterford businesses to support this very worthy cause.
According to Noel:
"I am delighted to see Johns College restored and redeveloped into apartments for Older People and people with specific needs. This really is a great news story for Waterford and will benefit a significant number of Older People on the housing list. I am urging all Waterford businesses to support this very worthy cause"
'Respond is very grateful to Noel Frisby for taking on our invitation to lead our necessary fundraising drive and we are optimistic that his generosity will spur similar generosity from the businesses he has written to.'
_____________________________________
FUNDRAISING EVENTS 2016
Permanent TSB sponsor essential services in Johns College – March 2016
David Leonard, Ardkeen Branch Manager of Permanent TSB  present a cheque for 1000 to Respond to develop essential services for the tenants in Johns College during a Coffee Morning for residents. David stated:
"The team in Permanent TSB Waterford are delighted to support Respond and their important work in the community, providing essential services for the most vulnerable in our society"

Tesco Lisduggan – March 2016
Thank you to Tesco Lisduggan who picked Respond to Johns College as one of their chosen charities for their community fund campaign.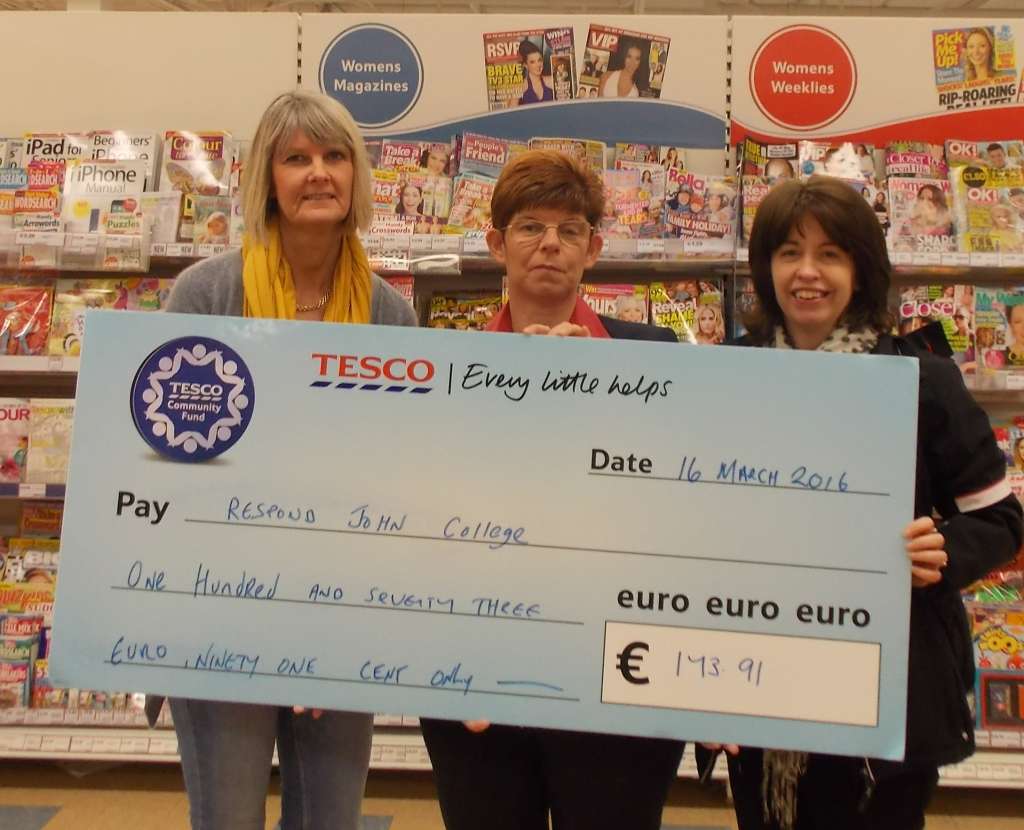 St. Joseph & Benildus Bridge Club – February 2016
Thank you to St. Joseph & Benildus Bridge Club who chose Respond to Johns College as the charity for the proceeds of their annual charity fundraiser.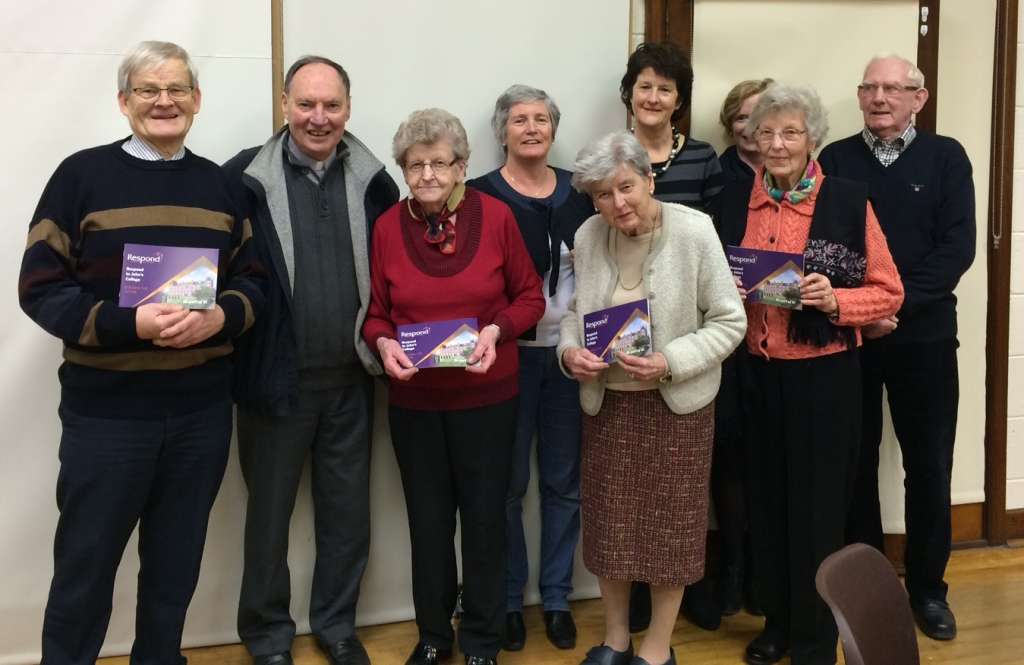 Havenwood Nursing Care – February 2016
Havenwood residents and staff presented a cheque for €200.00 to Philip O'Reilly from Respond in February. Respond to Johns College was chosen as one of the local charities to receive half the proceeds from the sale of the Christmas Charity CD, full of songs and stories from yesteryear, which residents and staff produced. Respond are very grateful for the generosity of all involved.
Newtown Junior School – January 2016
Pupils of Newtown Junior School, Fundraising Committee, 'Helping Hands', presenting a cheque for €700 to Fr Pat Cogan, for the 'Respond to Johns College Fundraising Campaign'.  A significant amount for such a small school of 120 pupils. 'Helping Hands' is a children led committee who organised a Christmas Concert and Non Uniform Day and a DVD.
Community Fund Tesco's – January 2016
Respond to John's College was selected as one of three causes/charities for the Community Fund campaign in the Tesco Ardkeen Store. The fundraising campaign received a percentage of the €1,000 on offer.

EVENTS 2015
Open to the Public took place on the 8th November 2015 – details here
Christmas Carols – 4th December 2015
The members of Edmund Rice Choral Musical Society were invited to perform at a Respond to John's College fundraising Christmas carol concert in the Franciscan Friary, Lady Lane On Friday, December 4th at 8pm. The choir were joined by the High Hopes Choir, Waterpark Secondary School Choir and guests. There was ample opportunity for congregation singing which included of course God Rest Ye Merry Gentleman. There was no admission charge but a collection was made at the end of the night for the Respond to John's College fundraising campaign.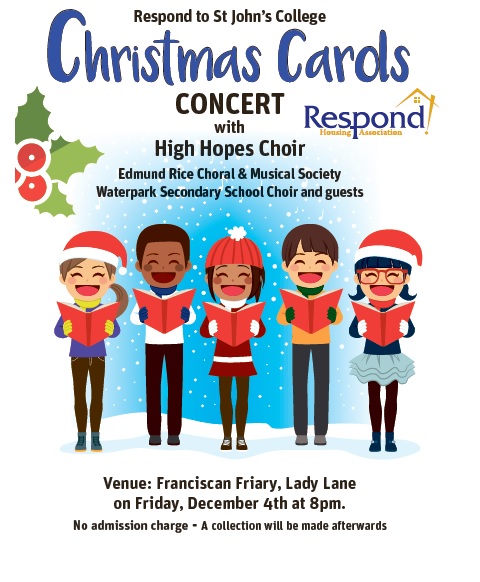 Race Night – Saturday 5th December 2015
The Race Night fundraiser at Kilcohan Park Greyhound Stadium on Saturday 5th December was great fun and also raised funds for the campaign, more details and photo can be found here
Ladies Charity Day
Lady President Jeannette O'Keefe and Lady Captain Deirdre McCarthy presenting a cheque to Fr. Pat Cogan, Founding Director of Respond from the proceeds of the Ladies Charity Day at Waterford Castle Golf Club in aid of Respond to Johns College Fundraising Campaign.
Johns College Support Committee
A Support Committee has been set up to guide the final stages of the John's College development. Respond would like to acknowledge the expert advice and guidance we have received from the committee members especially in the area of developing essential services for John's College.
Committee Members:
Philip O' Reilly, National Co-ordinator of Services for Older People, Respond(Chairperson)
Alan Ryan, Senior Manager, AIB Business Centre Waterford
Dr. Abdul Bulbulia, General Practitioner (retired)
Susan Murphy, Primary Care Lead, HSE
Barbara Murphy, Co-ordinator of Services for Older People, HSE
Aidan Barrett, Community Representative
Catherine Power, Community Representative
Tom Power, General Manager Respond (Support)
Patrick Cogan ofm, Founder Director, Respond
The total project costs of building John's College will come to €12 million. Some €8million of this will be made available in State mortgages to Respond from Waterford City Council through the Department of the Environment, Community and Local Government. The remaining €4million will be provided by Respond of which some €2.25 million will come in a private borrowing initiative from AIB Bank.
Respond is now fundraising to equip four key areas within the College which will be of huge benefit to the wider community in Waterford for many years to come.
Four key areas for Fundraising:
1 Sensory Garden
The inner garden formally known as "Cloister Court" will be developed into a sensory garden where residents and Day Centre users will be able to congregate in a relaxed and friendly environment.
2 Activation Room
The former lecture theatre and library will be developed into an activation room that will cater for Respond tenants, Day Centre users and people from the wider community. Respond has a strong record in delivering quality activation and socialisation programmes for older people in Waterford City and this room will be of huge benefit to the wider community.
3 Day Care Centre/Conservatory
The old Dining Room in John's College will be transformed into a purpose built Day Care Centre with Conservatory that will cater for older people and people with specific needs and requirements. It is envisaged that the Day Centre will become a lively social hub catering for older people living on this side of the city as well as communities from east Waterford.
4 Community Education Centre
The Chapel and Gallery in the College remained largely intact and possess some of the finest stain glass windows in Ireland. This space will be developed into a state of the art Community Education Centre which will cater for groups up to 150 people. Over the last 33 years, Respond has provided quality housing, education and support for older people and families in Waterford and throughout the country. We now need the help of the people of Waterford to make these essential facilities for the community a reality.
Donation Information:
If you wish to donate your time please contact Philip O' Reilly on (051) 840204
How to donate :
Johns College Fundraising Account
AIB, Lisduggan, Waterford.
Sort Code: 934 119
A/C No. 179 811 74
BIC: AIBKIE2D
IBAN: IE91 AIBK 9341 1917 9811 74
DONATE BY TEXT information to follow shortly
If the donation is €250 or more (in a tax year) Respond, is then eligible for a tax refund. Respond can reclaim the tax on this donation on the donators behalf. This requires the completion of the CHY 3 Cert  here and the return of this form to us, we will forward it to the Revenue Commissioners to reclaim the tax.
Respond celebrated the launch of St. John's College renovation project at the end of December 2013. RTE coverage of the Project Launch can be viewed: here