The Hardenburg Community Centre was established in 2009 by Sivile! The centre's vision is to restore dignity and hope to marginalised and sick people in situations of desperate need in rural communities, by supporting the needs of the 'whole person'. The Hardenburg Community Centre comprises of the following:
A Respite Centre
Consulting Rooms
A Dispensary
Ablution offices
Catering facilites
Waiting areas
The Respite Centre accommodates up to 40 children in two dormitories and has full ablution facilities, catering facilities, classrooms, indoor and outdoor activity areas. The centre when fully commissioned will house centre management and administration, permanent consulting space for resident professional nurse and social worker, consulting space for visiting doctors and specialists and a basic dispensary.
The Centre also plays home to a Community Health Support Programme that aims to give marginalised people a CHANCE (Caring, Health, Access, Nutrition, Counselling and Education) by providing community-based healthcare, welfare, training and support to the marginalised and destitute. The Community Health Programme helps the sick, dying, destitute and poor people of Hardenburg, as well as orphans and vulnerable chldren in isolated rural communities in the Eastern Cape. The Centre is located in the Alfred Nzo district which covers the north east of the Eastern Cape Province, bordering Lesotho and KwaZulu-Natal.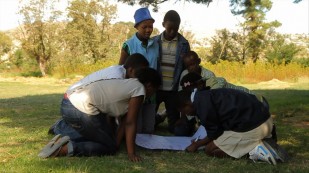 The four key programmes run by the Hardenburg Centre include the following:
Asset Based Community Development Training
HIV/ AIDS testing and referral clinic
Agriculture and Poultry projects
Family Well Being