The Bachelor of Arts in Housing and Community Studies (BAHCS) is a new and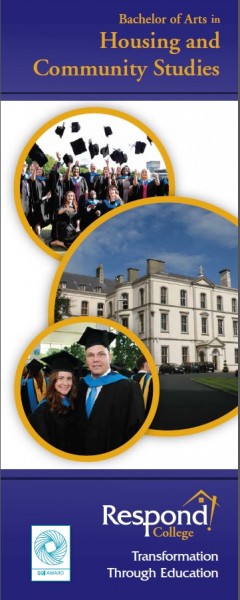 exciting degree that aims to develop housing professionals with an understanding of the importance of residential property to social policy and community development, and with a thorough grounding in the financial, management, planning and construction aspects of the built environment. It prepares students who want to make their career in an industry that is critical to the economic and social development of the country.
WHAT WILL I STUDY?
Social Policy
Community Studies
Housing Finance and Management
Management Theory and Practice
Built Environment: Planning, Design and Sustainability
CAREER OPPORTUNITIES
Students wishing to undertake this programme may see themselves as working in a range of public and private areas including Local Authority, housing charities, commercial property management and development, homeless services and community development.
WHY STUDY WITH RESPOND!
Respond College is uniquely placed to deliver this degree drawing on Respond's track record in providing social housing, pioneering community-based, integrated and vibrant housing development and related education programmes. It is the only BA degree in the ROI informed by both academics and practitioners with thirty years' experience in housing design and practice.
The degree learning outcome has been set out in accordance with the requirements of the NQAI framework for Bachelor Degree awards – NFQ Level 7.  Graduates of the BAHCS will have a level of theoretical knowledge and practice, with developed reflection capabilities, innovation, practical skills and competence to enable them to work and contribute in the housing and community sectors.
More details regarding module content can be found here.
In line with our not for profit status we do not charge registration fees. Total fees per annum are €3000.
Enquiry Form 
Bachelor of Arts in Housing and Community Studies (BAHCS), NFQ Level 7.
Entry Route: Admission to this programme is made through the CAO system.  Link here. The minimum entry requirement is grade C3 in two Higher Level subjects and at least a grade D3 in four Ordinary Level subjects. These subjects must include Mathematics and English.
GSCE
A minimum of 4 GSCE passes at grade C, to include Mathematics and English, plus two A level passes at grade C or higher.
BTEC
A BTEC National Diploma with a minimum of four distinctions.
FET Applicants
Minimum entry requirements for graduates of FET awards is a full FET major award in a cognate area at NFQ Level 5 or 6 which includes a distinction grade in at least three modules.
A full FET major award normally consists of eight modules.