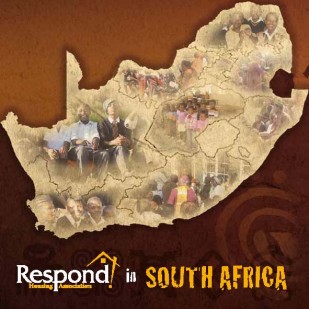 Respond was invited in late summer of 2005 by the Diocese of Kokstad in South Africa to assist them in developing supports and services for those in need in its area.
Following identification and analysis of need & services, the following capital construction works were completed:
Hardenberg: the redevelopment of the old school building into purpose designed dormitories and meeting rooms for the counselling and education services being provided for Orphans and Vulnerable Children (OVCs) in the area. Other facilities provided include community room, kitchen, shower and wash rooms, workshop and gardens.
Shayamoya: Thembalabantu Centre (Hope for the People) with the following facilities:
TLC Home Services, Hospice, Clinic, Palliative Care for all: HIV/ AIDS, TB, Cancer.
Sakhisizwe Pre-school.
Respond Training Centre, under Sivile's own Management.
Children's' Playground.
Blessed Paul Joseph Nardini Catholic Church, owned and funded by the Kokstad diocese.
Respond also undertook preparation of feasibility and initial design proposals to develop integrated housing and associated community and educational facilities at the R56 site in Kokstad.
Respond had intended from the completion of the capital phase programme in South Africa to withdraw entirely from its work in Kokstad and Hardenberg and leave the ownership, management and development of all assets and programmes in the hands of a locally-based Section 21 Company, Sivile, with its own locally-based Board of Directors and its locally-based CEO who would develop a management and service delivery programme.
Teresa Olivier was appointed as the CEO in April 2014 and a new majority South African Board was established in May 2014 to help Sivile! embark on the road towards self-sustainability whilst continuing to deliver a myriad of services to communities in Kokstad and Hardenberg. Some of the programmes that are currently being undertaken include:
Hardenberg
Asset Based Community Development Training, Poverty Alleviation Programmes.
HIV/ AIDS testing and referral clinic.
Agriculture and Poultry projects including setting up of Cooperatives and encouraging entrepreneurship.
Family Well Being and Support programmes for orphans and vulnerable children.
Kokstad
Training in areas of acute skills shortage through relevant SETAs accreditation programmes such as Information Technology – current and functional primary SETA, Construction SETA (Plastering & Bricklaying in the development stage).
Entrepreneurial – seedlings and vegetable gardens with potential income generation.
Other training activities such as Life Skills coaching, welding, and furniture making and other vocational courses. Sivile! has been actively engaged in raising funds for its activities through programmes within South Africa and around the world; since July 2014, Sivile! has been successful to getting funding commitments of around R500,000.
Respond will continue to assist Sivile! in areas of education, skills development, health, community development projects and housing management by providing technical support and capacity building in addition to promoting volunteering services through individuals partnering agencies in Ireland .
Sivile! Board Members:
Owen Peters, Bishop ZP Mpambani, Martin Brand, Fr. Vincent Bwete, Sr. Flora Bless, Brenden Marnce, Shannon Peters & Parag Joglekar.
If you would like to learn more about our work in South Africa, please click here to view a short film on our visit to the region in 2011.