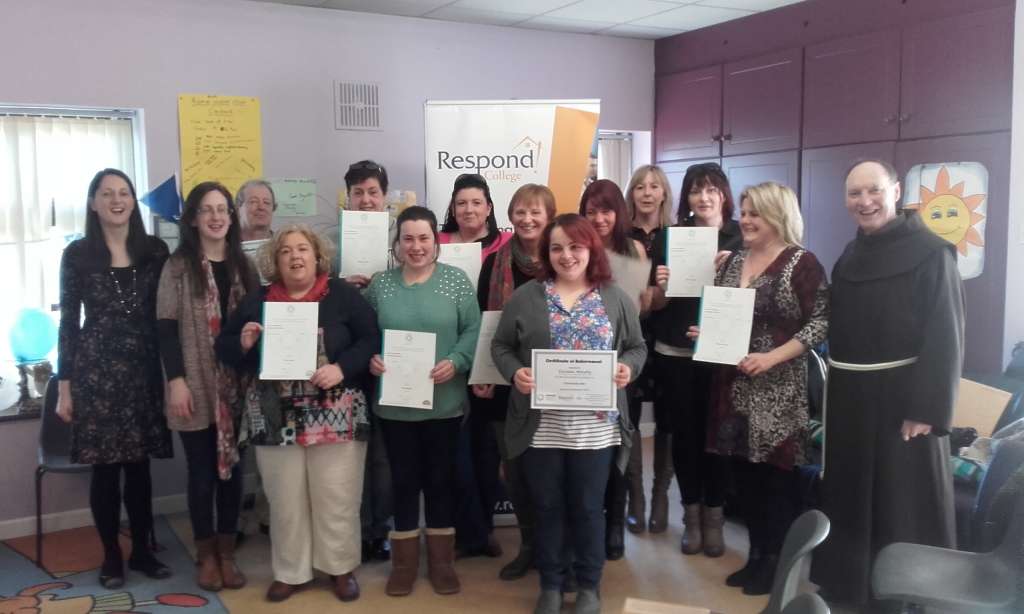 On Wednesday 24th of February Respond and the Waterford & Wexford Education Training Board (WWETB) presented 25 certificates to Adult learners in Daphne View! The awards presented on the morning were for a QQI Level 5 Social Studies and a non-accredited community arts programme.
Learners were congratulated on their achievements by Fr Pat Cogan, Founder Director of Respond and Anne Mc Donnell WWETB Community Education Programme thanked the tutors Helen Mc Lean and Nuala Walsh for their commitment to the groups.
The event was scheduled as part of AONTAS Adult Learners' Festival programme of events which took place nationwide from 22nd -27th February. Niamh O'Reilly, CEO of AONTAS speaking at the launch of the programme of events for the 10th annual Adult Learners' Festival stated:
"The Adult Learners' Festival gives us the opportunity to highlight the wide range of learning programmes on offer throughout the country, including community education programmes.  In 2015, over 58,000 community education places were provided through SOLAS, the Further Education and Training Authority but we believe that more places are needed". 
Ms O' Reilly went on to say that the festival is also a good way of highlighting "the high levels of demand for community education, the impact of community education services, and the steps that need to be taken by the next Government to protect and promote this vital sector"
Respond strongly believes that adult and community education is all about community empowerment and advocate supported opportunities to learn part time in individuals own community.
Well done to everyone involved!
For more information on these programmes or any others being run by WWETB Community Education Programme please contact Anne Mc Donnell on 086 8533667
Posted February 2016 : by Sarah Barron Respond Education Resource Officer