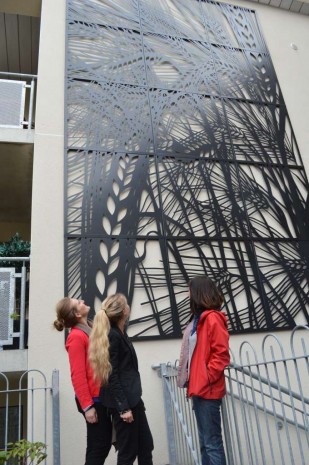 The final installation of the Art pieces as part of the Gleann na hEorna 'Per Cent For Art' Project in Tallaght was completed on Thursday 17th September 2015. This art project which involved a number of activities such as stained glass window design and creative vinyl window installations.
The Per Cent For Art Scheme is a government initiative, first introduced in 1988, whereby 1% of the cost of any publicly funded capital, infrastructural and building development can be allocated to the commissioning of a work of art. This Art Project was picked for the Gleann na hEorna estate through a proposal submitted, under the Per Cent For Art Scheme, by artists Jo Chapman and Bianca Divito.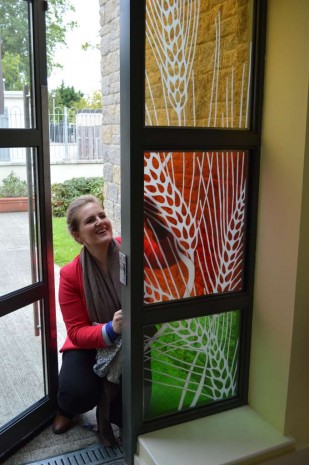 Their proposal was based around the works of a local poet Katherine Tynan and the estate name Gleann na hEorna (Barley Glen).  This estates name was taken from Katherine Tynan poem "The Wind That Shakes the Barley".  The artwork for this project will include a large wall installation, an installation to one of the gates on the estate and a stain glass window in the community building.
Part of the projects overall objective was to encourage community engagement.  This engagement took the form of workshops run in the estates community building by the artists.  Some of the programme was held in Rua Red, Tallaght Community
Arts Centre with the view of creating links within the local community.
The workshops were held with a core group of Gleann na hEorna residents which helped to guide and influence artists in designing the final installations.The whole Project was overseen by the public art co-ordinator Rina Whyte.
The Final Three art pieces consisted of:
– Large Wall Piece by Jo Chapman
– New Entrance Gate
– Glass panels at the main entrance door of the community centre by Bianca Divito
All with consideration to 'Gleann Na hEorna', local folklore and workshops undertaken with the residents.
This art work was mentioned on Publicart.ie here which is a publication commissioned by the Arts Council of Ireland and the Department of Arts, Sports and Tourism. Publicart.ie offers space for discussion, news and information exchange between artistic practitioners, commissioners, audiences and participants.
Artists website addressed are :
www.jochapmanart.co.uk  &  www.biancadivito.com
Posted : September 2015