Respond is delighted to have been presented with a prestigious Saint-Gobain National Trophy 2016 for the Johns College Project. This trophy was awarded in the Irish Awards under the Residential Category.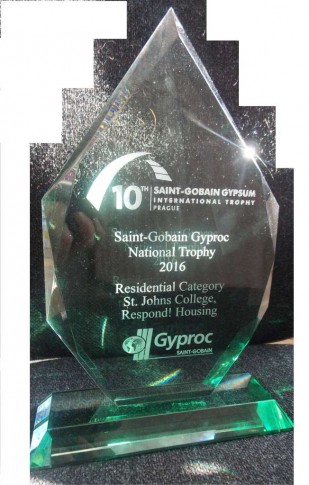 This project involved the complete refurbishment of a former seminary by the Respond Housing Association into 21 self-contained apartments for older persons. The total cost of the project was €12 million and employed over 100 construction operatives during the construction phase.
The refurbishment project takes the history of the Gothic Revivalist style building into account, as its aim was to preserve and protect the old walls, fine stain glass windows and beautiful stonework. Gyproc Partition systems incorporating SoundBloc plasterboard were used as the separating compartment walls offering optimum levels of acoustic separation while also meeting the required levels of fire resistance. Gypfloor Silent systems were installed to maintain the required level of impact sound reduction on the compartment floors. This project was a major intervention in a historic building and there were strict guidelines to be met in terms of conservation (and meeting the current building regulations).
Key Achievements
High levels of technical support at design stage with both the Architect and the Conservation Officer, that ensured that the finished building not only met with all the regulatory requirements but also provided a comfortable environment for the residents.
Key Challenges
Major intervention in a historic building, the major challenge was meeting current regulations in terms of fire and acoustics.
Structural challenges – existing structure supports the ceiling; new structure supports the floors above.
Protected structure – designing and constructing within the restrictions of a listed protected building.
Link to photographs of our Johns College Project can be found here
Stakeholders
Building owner: Respond Housing Association
Architect: Richard Vaughan Respond Housing Association
Main contractor: Mythen both main and sub
Photographer: Paul Lehane
Saint-Gobain Team: Evan O'Keeffe