On Monday 10th December Deputy Mayor of Cork County Mary Linehan Foley & Minister of State David Stanton TD were on location at Market Green, Knockgriffin, Midleton, Co Cork to turn the sod on a new residential development by Respond which includes 42 new homes and a community building at Midleton, Co. Cork.
This project is in partnership with Cork County Council, the Department of Housing, Planning & Local Government, the Housing Finance Agency and Cork Co-op Marts Limited.
This marks the continued work by Respond in Cork where Respond currently owns and manages 432 social housing homes. The Respond development programme for Cork city and county for 2018 to 2021 currently stands at 337 homes.
Respond continues to offer real solutions by building new homes and actively helping the homeless with 450 new construction starts this year so far, 5 family hubs and a commitment of 2,500 homes over the next 5 years.
Deputy Mayor of the County of Cork, Cllr Mary Linehan-Foley thanked all partners involved and in particular Respond who have worked in collaboration with Cork County Council on the development of this scheme and a number of similar schemes throughout the county. She added that "working with the Approved Housing Bodies is integral to Cork County Council's housing delivery programme and these new homes are a very welcome development for the Midleton area"
Representing Government at this event, Minister of State David Stanton T.D. said:
"I am delighted to be here today on behalf of my colleague, Minister for Housing, Planning and Local Government, Eoghan Murphy T.D., who is working with local authorities and voluntary associations, such as Respond, to deliver housing projects across the country. Respond housing developments are developed and run to the highest standards as is evident by their homes in Carraig Liath which opened in Midleton 10 years ago.  I am sure that the future residents of these additional 42 homes at Market Green will be very happy."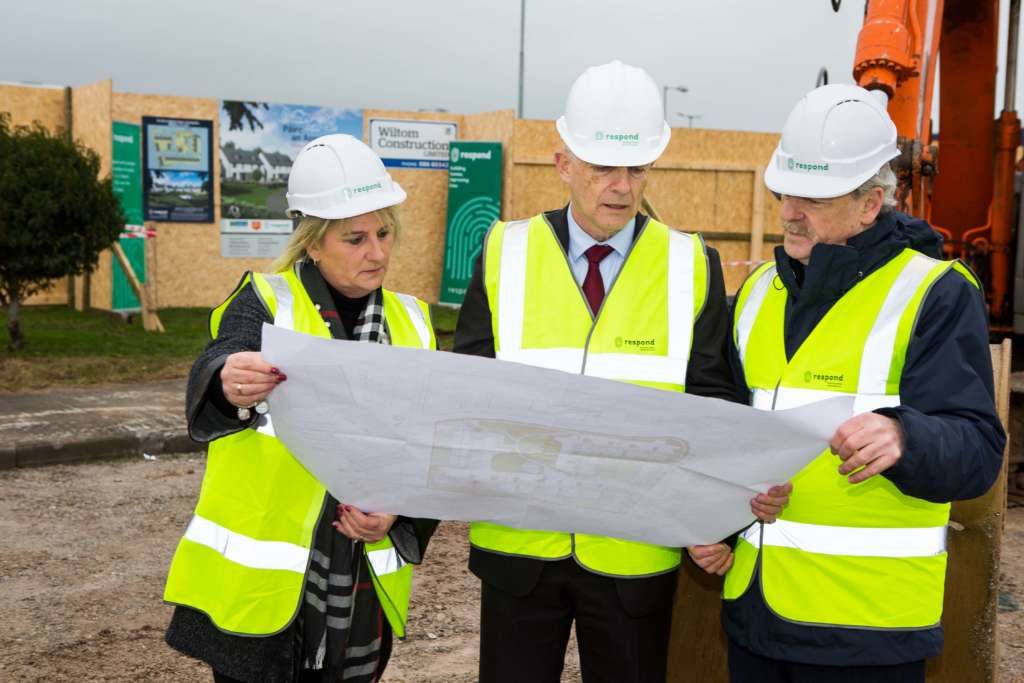 Respond CEO Declan Dunne said:
"Cork is particularly important to Respond and its development programme as a national Housing Association which has built 5,639 homes around Ireland, we are committed to building additional homes not just in the major cities but throughout the country for those families and individuals who want need and deserve them"
At a project value of € 11.76 million this development of 42 units comprising of 17 x 2 bed terraced, 18 x 3 bed end of terrace, 6 x 3 bed semi-detached, 1 x 2 bed apartment, and 1 Community building. This development is located to the north-west of Midleton Town Centre, west of Market Green and to the north of existing residential development of Avoncore Cottages. The development is funded through CALF, PAA and private finance, and is due for completion in 2020.