Some of the older houses, apartments and community buildings that comprise the Irish Social housing stock are a product of the age when they were built. They are largely heated by storage heating, back boilers or in the case of later builds gas or oil boilers which are now proving to be inefficient and thus more expensive to run. With the poor heat retention of the older structures, heating them is labour and material intensive and costly for the tenants.
Works to Respond homes
Retrofitting the structures with insulation, modern windows and heat pumps lowers the running cost and improves quality of life for the occupant by allowing a greater availability of heat at a fraction of the previous cost and much less physical effort. Storage of fuel and disposal of ashes etc. is also reduced or totally removed.
Experience has shown that the occupant tends to become more energy conscious as less of their disposable income is spent on heating due to the higher level of comfort and control.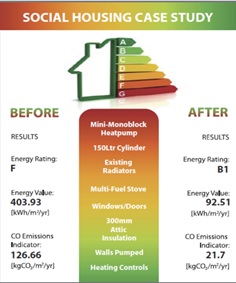 Upgrading these dwellings leads, not only to a warmer more comfortable home, but happier and healthier occupants in a much improved BER rated structure and a significant step towards meeting Ireland's carbon emissions reduction targets.
Through the umbrella of the BEC Scheme a Project Co-Ordinator manages all the skill sets needed to retrofit the occupied dwellings. The Project Co-Ordinator for the recent works carried out in Waterford in 2015 and Cork in 2016 were EnviroBead based in Mallow, Co. Cork. Their experienced team normally consists of heating specialists, window fitters, insulation fitters, electricians, labourers, contract managers etc.
The Contractor: Envirobead
Niall McCarthy of EnviroBead partnered with Respond Housing Association on the SEAI Better Energy Communities (BEC) Scheme to enable Respond progress the Energy Efficiency upgrades to their existing housing stock. Working together, the Respond Management team and EnviroBead, set about identifying suitable properties and compiling the information required by SEAI for the BEC scheme applications.
As Project Co-ordinator, EnviroBead's role was to manage the project from inception, through to successful completion. A key element for EnviroBead, was to liaise with the Respond tenants in the housing units, informing them of the proposed works, and scheduling the works in such a manner, so as to minimise the disruption to the tenants throughout the project.
EnviroBead used their extensive experience in the energy efficiency industry to engage with Energy Providers, to obtain part funding for the projects in return for the Energy Credits generated on the projects. EnviroBead also used its excellent working relationships with sub-contractors, and market leading suppliers (such as Daikin for the heat pumps), to obtain extremely competitive prices, thus increasing the financial competitiveness of the projects.
Over the past number of years, EnviroBead have worked successfully with Respond on a number of BEC projects, obtaining up to 60% funding for Respond's Energy Efficiency Upgrade works.
The Client: Respond Housing Association
Established in 1982, with a current housing stock of in excess of 4000 units, Respond Housing Association have been very proactive carrying out deep retrofits over a number of years. 2015 saw Respond carry out various BEC schemes to allow hundreds of homes to be upgraded from BER G rating to BER B rating in Dublin, Carlow, Kilkenny, Wexford, Waterford to name a few. In 2016 units are being installed in Cork City and County estates.
The homes received Daikin Altherma air to water heat pumps, LED lighting upgrades, attic space insulation, wall pumped insulation, inset solid fuel stoves and new external doors and windows. Most of the refurbishments were single and two -storey units built in the early 1990s and were in need of refurbishment.
The wall construction is a normally cavity wall with (by today's standards) a minimum of insulation and, until the upgrade, the primary heating system was open fire and back boiler. Aside from poor thermal performance, the buildings themselves on an Asset Management basis were due an upgrade.
The homes were assessed by Respond's Property Team and Regional Managers with respect to their requirement and suitability for an upgrade and application was made to be included in SEAI Better Energy Community Scheme 2015 and again in 2016.
Respond's Technical Service Officers comment
Respond Housing places our tenants' needs at the heart of our business. We are committed to maintaining and upgrading our housing stock throughout the country, for now and into the future. Of primary importance to us is alleviating fuel poverty faced by our residents.
Energy upgrades mean vastly reduced heating bills for residents particularly when gas and electricity costs are rising. This in turn leads to greater disposable income for our residents as well as warmer, more comfortable homes. Energy upgrades are a win-win for the resident, the housing provider, the contractor, the local economy and the wider environment. When it comes to properties to be re-furbished heat pumps are our first option considered, when selecting a replacement heating and hot water system.
Respond's Head of Property states:
"Respond are very happy with the quality and professionalism and back-up supplied during the fit-out and afterwards by Envirobead and in particular Daiken and their colleagues. We hope to repeat these works in further developments."
The Occupants
The team's experience has created awareness that change is a significant challenge to many occupants, so time was taken to meet the residents of each estate, as a group, to make them aware of the proposed works and how they would benefit. They were assured and given costs showing that their heating bills would reduce very significantly and their comfort levels would rise as significantly.
How the heat pumps worked and how they could easily control their usage was emphasised and repeated as necessary with the installer providing individual instruction as and when required. With the simple-to-use Daikin controller, most were quickly put at ease.
Most tenants have a clear knowledge of their heating costs and very quickly they begin to understand that they are now fuel rich rather than fuel poor, with income released to help them live better and healthier.
For the Asset Management of the dwellings, the Daikin Altherma units record how much energy they use and an easy calculation will identify actual cost so the Housing Association or County Council can monitor fuel costs and soft outcomes such as tenant well-being.
As one of Respond's tenants has said:
"The upgrade of our heating system has meant my family's house is more pleasant to live in and cheaper to run. We do not fear the onset of the winter now as we know we'll be able to cope"
The Heating Contractors: RTS Heating & Cooling
RTS run by Hugh Foley are a long established heating installation company, and installer of Altherma air source heat pumps. RTS was awarded the contract to install the heat pumps for the properties in Co. Waterford and Co. Cork. RTS have vast experience in heat pump technology and were able to provide expertise ensuring that each property had exactly the right Daikin Altherma configuration using the existing radiators to provide all round heating and hot water.
Daikin Altherma was chosen by RTS/Envirobead/Respond because we evaluated it to be the best system available. The results we have seen from the installations have been impressive in terms of running costs, as well as this, the cost of installation was actually lower than a new solid fuel system.
As the houses/apartments were occupied during the project the workmanship of the contractors is critical, friendly relationships were built to make everyone's life easier.
The installation team understood that their workplace is someone's home and that behaviour and procedures that are acceptable on a building site are unacceptable on these projects. They work with the occupier to reduce the effect of the temporary disruption necessary to improve their environment.
The heat pump installation was the most complex measure to the home, RTS Heating and Cooling Services have installed heat pumps on Respond projects since 2012 and bring their technical, installation and client relationship experience to such projects.
The installation went very smoothly, despite the tight programme, we managed to keep disruption to a minimum and residents have reported that they are very impressed with the new system.
Posted: December 2016 – Recent article featured in the Local Authority News 2016