In Respond, we want every family and individual in Ireland to have high-quality housing as part of a vibrant
and caring community.
How do I apply for Respond Housing?
Tenants are assigned to our housing by their Local Authorities. To apply for social housing support you must fill in and submit an application form to your Local Authority. You must apply to the Local Authority area in which you wish to live. You can get an application form from your Local Authority's offices or on their website.
An Easy Read Guide to the completion of the application form is available.
If you wish to discuss any aspect of your tenancy, your Tenant Relations Officer (TRO) will be available to speak with you at your convenience.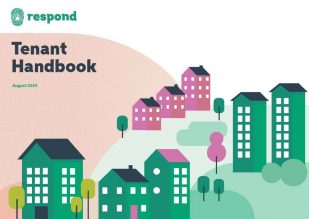 If you would like to read our Tenant Handbook, please click on the link below. This handbook provides you with some information about being a Respond tenant and how we will support you in your tenancy. It also clarifies the responsibilities of Respond as your landlord, and you as our tenant.